Print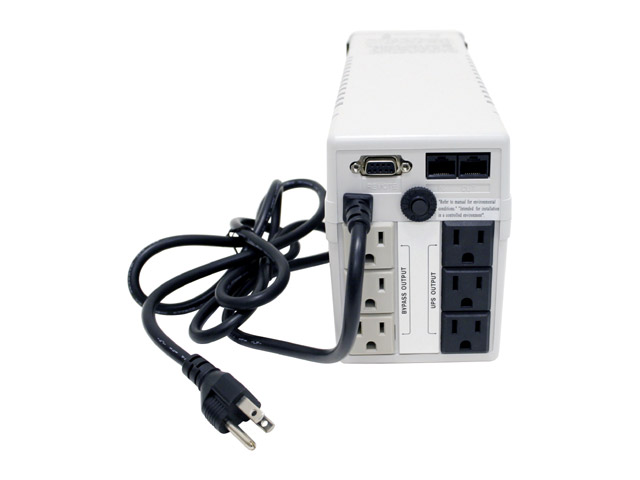 PowerCom UPS – King CS Series (Battery Backup Unit)
Emergency Power Protection for Computers and Peripherals.  Emergency Battery Power Backup with lightning and surge protection plus free automatic shutdown and power management software
WARNING:
DO NOT PLUG IN MOTORIZED PRODUCTS AND OVERLOAD USE.  PLEASE KEEP THE PRODUCT IN A OPEN AND COOL ENVIRONMENT AND DO NOT USE OR STORE NEAR HEAT OR OPEN FLAME.  WARRANTY WILL NOT BE COVERED UNDER IMPROPER USE CONDITION.
Highlights
Protection for computers against power failure and surge

Loads or computers are vulnerable when they encountered sudden power failures, lightning and surge strike.  Typical disasters include system damage on both hardware and software, file and data loss, etc…  A power backup solution is essential either working in the office or at home.

Boost and buck AVR

The build-in Automatic Voltage Regulator will sense the input power and adjust the output voltage when the input voltage is over nominal or under.  This will let the valuable loads that is connected to this UPS get the optimal input power quality.

User replaceable battery to extend product life

With ABM (Advanced Battery Management) Technology, the status of internal battery would be checked by the control circuit & CPU.  In case of the battery reaches it's end of life, the easy replacement design allow users to replace the battery by him/herself without sending the UPS back for service.  This will save the service fee and time.

LED display UPS functions

Three kinds of LED displays identify UPS status legibly, such as On line / Battery back up / Replace battery.

Short Circuit and Overload protection

In case of short circuit of the UPS, the unit will be protected by a resettable circuit breaker for easy recovery by simply push the button to the normal position.  The UPS is also equipped with overload protection by giving warning sound from the audible alarm.  If this happens, simply remove excessive loads from the UPS.

System diagnostic and battery check function

Allow users to periodically check all internal components and battery.

Cold start even when power source does not exist

Users can power on the unit without any AC power, this provides temporarily backup power in an emergency when the utility power is failure.
Color & Shape/Size
White or Black
Rectangular in shape – and is roughly the size of a loaf of bread
Specifications
Input: Capacity = 625VA; Voltage = 110V, 110V, 115V, 120V, 220V, 230V, 240V +/- 25% at line input; Frequency = 50 or 60 Hz +/- 10% (auto sensing)
Output: Voltage (on battery) = Simulated sine wave at 100V, 110V, 115V, 120V, 220V, 230V, 240V +/- 5%; Frequency (on battery) = 50 or 60 Hz +/- 0.5%; Voltage Regulation (AVR) = AVR automatically increase output voltage 15% above input voltage if -9% to -25% of nominal. AVR decrease output voltage 13% below input voltage if +9% to +25% of nominal
Protection and Filtering: Spike Protection = 480 Joules, 2ms; Unit Input = Fuse or circuit braker for overload & short circuit protection; Overload Protection = UPS automatic power off if overload exceeds 110% of nominal at 60 seconds and 130% at 3 seconds; 10 Base-T Cable Port = Network (UTP, RJ-45) compatible jacks; Short Circuit = UPS output cut off immediately or input circuit breaker (or fuse) protection
Battery: Type = Sealed, maintenance-free lead acid batteries with 3-6 years typical lifetime; Typical Recharge Time = 6 hours (to 90% of full capacity); Protection = Auto discharge protection
Physical: Dimensions (W x D x H mm) = 3.8 x 12.5 x 5.3 in (97 x 320 x 135 mm)
ALARM: Battery Back-up = Slow beeping sound (about 0.47 Hz); Battery Low = Rapid beeping sound (about 1.824 Hz); Overload = Continuously beeping sound
Interface: RS-232 (serial) / USB = Detect battery low, Schedule UPS on/off AC input/output power status display
Environment: Ambient Operation = 3,500 meters max, elevation.  0-95% humidity non-condensing, 0-40 deg C; Audible Noise = <40dBA (1 meter from surface); Storage Condition = 15,000 meter max, elevation
(Disclaimer: Specifications subject to change without notice)
UPSMON Software Features:
Scheduled system shutdown/reboot
Data log for power quality and UPS/power events
Automatic shutdown and reboot
Real-time graphical for UPS status and power events
Broadcast power abnormal status
Software control ON/OFF output power
UPSMON is compatible with Windows 98/2000/NT/XP
Warranty:
2 year comprehensive warranty including battery
==========
We hope you found some value reading this online guide provided to you by NCKCN.
If you could spare a few more seconds, we'd appreciate it if you could rate this article.  Doing so will help us better understand our community as well as to provide better content for future articles.
We value your input and Thanks in advance!





(2 votes, average: 5.00 out of 5)


Loading...