Print
NCKCN highly recommends that all of its members obtain some sort of router/firewall to help protect against online threats/attacks.  Without one, you are vulnerable to malware/spyware/phishing/virus/ransomware/DDoS/etc… attacks when browsing/surfing the Internet which can severely, or even permanently, damage your computer(s) or mobile device(s). These attacks can even obtain/steal sensitive/confidential data from your computer(s)/mobile device(s) which can cripple oneself, or bring down entire organizations.
With that said, NCKCN has done some research in terms of protection against these threats, affordability, reliability, shelf-life, having wireless dual bands available (2.4GHz & 5GHz), parental controls, mobile app, easy to use, setup and configure, etc… and have thoroughly tested out the following routers/firewalls:
If you do not have a router/firewall during the initial installation when receiving NCKCN's Fixed HighSpeed Wireless Internet, NCKCN's technician(s) will inform you and can provide you with a NCKCN approved router/firewall.  These devices will cost an additional $70 per device.
If you do have a router/firewall, there is no need to obtain a new one until your router/firewall no longer works or if your router/firewall is older than at least 5 years.
Whenever you need a new router/firewall, feel free to give NCKCN a call and ask us about the routers/firewalls we have in-stock.  You can purchase and pick one up at NCKCN's main office.  NCKCN's address:
NCKCN
109 N. Mill
Beloit, KS 67420
==========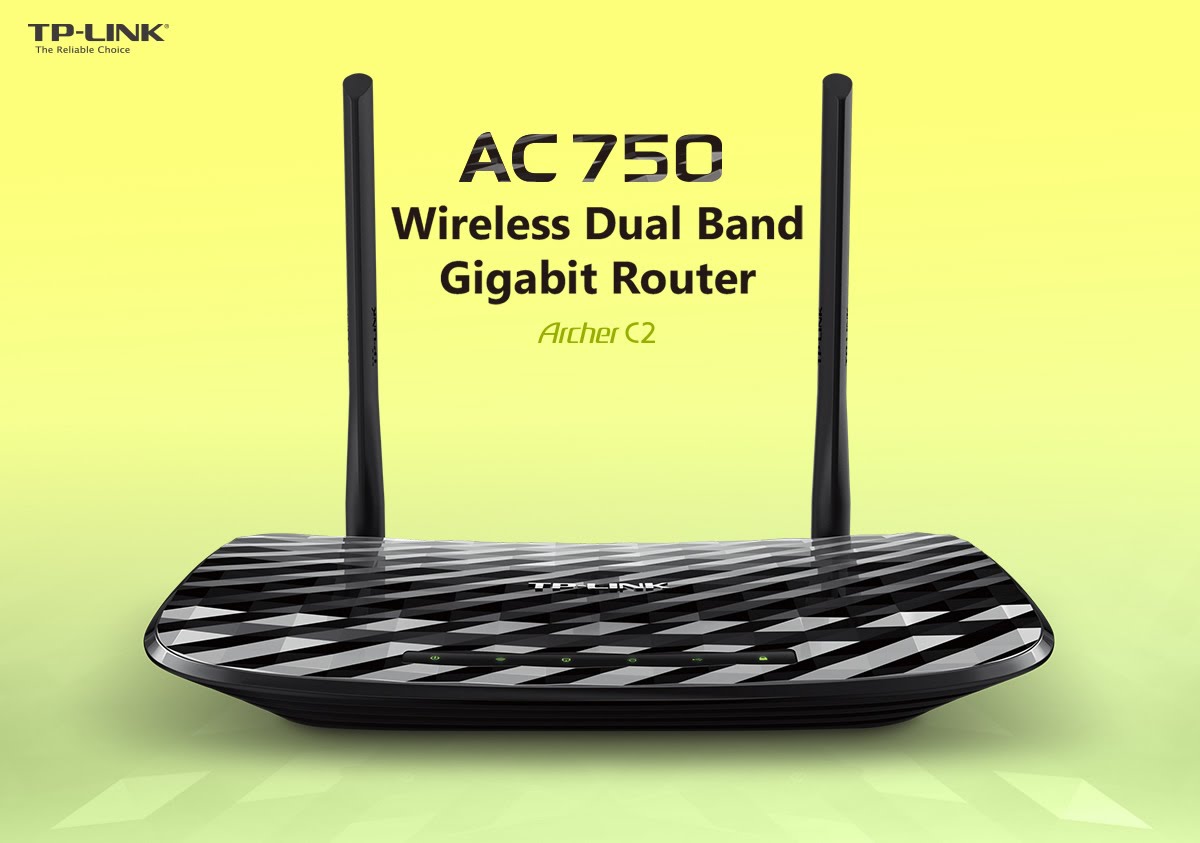 TP-Link – AC750 Wireless Dual Band Gigabit Router (Router/Firewall)
Highlights
300Mbps + 433Mbps Wireless Speed

Ideal for online gaming, HD streaming and large file downloads.

2.4 & 5 GHz Concurrent Dual Band

Avoids interference for a better online experience

Broad Coverage Area

2 dual band antennas for stable signal and optimal range

Gigabit Wired Speed

Full 10/100/1000Mbps ports, stable and blazing fast

USB Port

For storage (Hard Drive or Flash Disk) and printer sharing, FTP Server and Media Server

Guest Network

Allocates separate and secure network for guests

One Button Security

Easy wireless security encryption at a push of the WPS button

Wireless On/Off

Lets you simply turn the wireless radio on or off

IPv6 Enabled

Supports the latest Internet Protocol technology

Easy Setup

Provides quick & hassle-free installation

IEEE 802.11ac Wireless Technology

TP-LINK's Archer C2 comes with the next generation Wi-Fi standard – 802.11ac, backward compatible with 802.11n and 3 times faster than wireless N speeds and delivers a combined wireless data transfer rate of up to 733Mbps.  With 300Mbps wireless speeds over the 2.4GHz band and 433Mbps over the crystal clear 5GHz band, the Archer C2 is the superior choice for seamless HD streaming, online gaming and other bandwidth-intensive tasks.
Package Contents
AC750 Wireless Dual Band Gigabit Router Archer C2
RJ45 Ethernet Cable
Power Adapter
Quick Installation Guide
Physical Specifications
Dimensions: 9.1 x 5.7 x 1.4 in. (230 x 144 x 35mm)
Antennas: 2 external detachable antennas (RP-SMA connector)
Standards
IEEE 802.11b/g/n 2.4GHz
IEEE 802.11a/n/ac 5GHz
Security
WEP
WPA/WPA2 Encryption (Enterprise)
WPA-PSK/WPA2-PSK Encryption (Personal)
SPI and NAT Firewall
Parental Control
MAC/IP/URL Filtering
Management
Easy Management with the TP-LINK Tether app.

The Tether app lets you manage your network settings via your mobile device(s).
Support
Tech Support 24/7

1-866-225-8139
support.usa@tp-link.com
Warranty:
LIMITED SUPPLY:
The Archer C2 (also known as: AC750) is in limited supply. When the last router is sold, NCKCN will no longer carry this modal/unit – instead, please see: TP-Link – AC1200 as this router will be available.
==========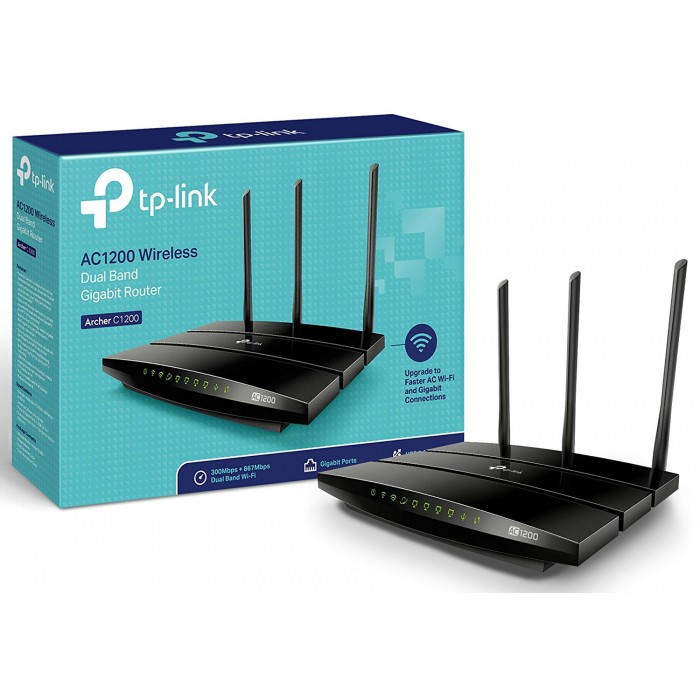 TP-Link – AC1200 Wireless Dual Band Gigabit Router (Router/Firewall)
Household Wi-Fi at Streaming Speeds
Press play and forget about buffering with the Archer C1200.  The Wireless AC router creates high-speed AC1200 Wi-Fi so you can game online and watch movies in HD at the same time.  Thanks to dual Wi-Fi bands, you can run more of your devices at the same time without interruption.  The strong 2.4GHz (300Mbps) Wi-Fi band is perfect for sending emails, browsing the web, and listening to music.  The crystal clear 5GHz Wi-Fi band reaches 867Mbps so you can game online and stream in HD simultaneously.
Optimum Wired Versatility
The Archer C1200's multiple Gigabit LAN ports provide your PCs, game consoles and more with ultra-fast and stable wired networks.  You can also share a printer, files and media with numerous devices on your local network or via FTP server from anywhere in the world using the fast USB port.
Beamforming for Better Coverage
Beamforming technology detects the location of your connected devices and concentrates the Archer C1200's Wi-Fi towards them to create stronger overall connections.
Highlights
Parental Controls

Manage when and how connected devices can access the Internet

Quality of Service

Prioritizes devices or applications to give faster performance where you need it

Secure VPN Access

Connects to a private network with a safe and secure OpenVPN and PPTP VPN connection

Beamforming Technology

Sends targeted Wi-Fi signal to individual devices for stronger connections

Security

Protects your home network with SPI Firewalls and WPA2 encryption

IPTV

Supports IGMP Proxy/Snooping, Bridge and Tag VLAN to optimize IPTV streaming

USB Port

Enables print sharing or media sharing via external hard drive or FTP/Samba server

IPv6

Compatible with IPv6 (Internet Protocol version 6)
Package Contents
Wireless Router Archer C1200
Power Adapter
RJ45 Ethernet Cable
Quick Installation Guide
Specifications
Wireless

300Mbps on 2.4GHz + 867Mbps on 5GHz

Antennas
Ports

5 Gigabit Ports, 1 USB 2.0 Port

Dimensions

9.6 x 6.4 x 1.3 in (243 x 160.6 x 32.5mm)
Management
Easy Setup and Use

Installation is simple, thanks to an intuitive web interface and the powerful TP-Link app, Tether.

Tether App

Tether lets you manage your network settings via your mobile device(s).
Support
Tech Support 24/7

1-866-225-8139
support.usa@tp-link.com
Warranty:
==========
We hope you found some value reading this online guide provided to you by NCKCN.
If you could spare a few more seconds, we'd appreciate it if you could rate this article.  Doing so will help us better understand our community as well as to provide better content for future articles.
We value your input and Thanks in advance!





(3 votes, average: 5.00 out of 5)


Loading...